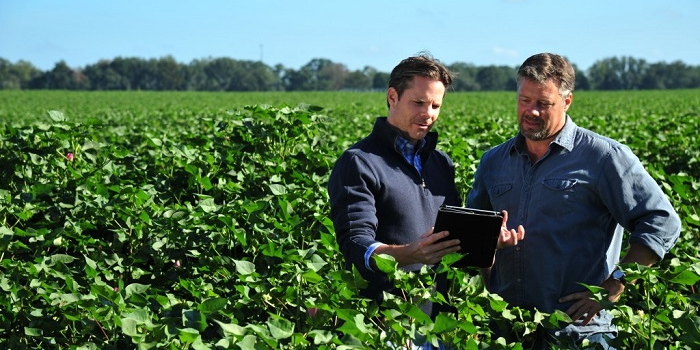 Agribusiness and food is a $5 trillion+ industry that represents 10 percent of global consumer spending, 40 percent of employment, and 30 percent of greenhouse emissions. According to global management consulting firm McKinsey & Company, "since 2004, global investments in the industry have grown threefold to more than $100 billion in 2013. Food-and-agribusiness companies on average have demonstrated higher total returns to shareholders (TRS) than many other sectors: the TRS of more than 100 publicly traded food-and-agribusiness companies around the world increased an average of 17 percent annually between 2004 and 2013, compared with 13 percent for energy and 10 percent for information technology."
As a result of such tremendous growth in the industry, the U.S. Department of Agriculture estimates that many more agribusiness careers are available than there are qualified people to fill them. The shortage is greatest for managers, financial specialists, and marketing/sales representatives. In response to shortage, some of the nation's most recognized colleges and universities have developed new degree programs or enhanced existing ones that allow students to major or specialize in agribusiness at both the graduate and undergraduate levels.
A few options include Morrison School of Agribusiness at W.P. Carey School of Business-Arizona State University, Penn State University, Brigham Young University, Orfalea College of Business at California Polytechnic Institute (Cal Poly), University of Georgia, Texas Tech, New Mexico State University (NMSU) College of Business, Mississippi State University, Alabama A&M University, Kansas State University, Purdue University, and Utah State University.
The MBA with a Specialization in Agribusiness requires courses such as Agricultural Policy, Advanced Futures and Options Markets, International Agricultural Trade Theory and Policy, Global Food Supply Chain Management, Advanced Agribusiness Marketing, and Advanced Agribusiness Management. Students will also take MBA courses such as Managerial Economics, Operations Management, Marketing Management, and Quantitative Analysis for Business Decisions, to name a few.
Utah State University offers a Food and Agribusiness International MBA that takes things several steps further. Offered as a joint program between Utah State University (USU) and the Royal Agricultural College in Cirencester, UK, the program is one of the few of its kind in the nation for students wishing to pursue agribusiness. Per USU, "it provides the opportunity for future agribusiness managers to gain understanding and experience with producers, processors, consumers, and policy makers at an international level. The increasing globalization of the food industry has highlighted the need for managers who have experience with the social, cultural, production, and consumption conditions in the major markets of the world."
"Students begin the program fall semester at USU, spend the following spring semester at the Royal Agricultural College, and then return for the fall to finish at USU. Course topics studied at USU include accounting, marketing, agricultural marketing, price analysis, supply-chain management, and econometrics. Course topics studied at the Royal Agricultural College include marketing, human resource management, production and operations, food chain and agribusiness industry, economics, and agricultural policy."
Besides having the qualifications needed to pursue management positions in the areas such as marketing, sales, and accounting for major firms such Eli Lily, Tyson Foods, Merck, Archer Daniels Midlands, CHS, Cargill, Koch Industries, AGCO, DuPont, and Land O'Lakes, graduates of Agribusiness MBA programs can pursue careers in credit analysis for regional agribusiness banks, and consulting for private firms and government agencies. And salaries are handsome. According to Simply Hired, the average salary for agribusiness managers is $103,000 annually. According to the site, the bottom 10 percent average $61,466 and the bottom 25 percent average $78,829. The top 25 percent average $137,023 and the top 10 percent average $175,730. The Bureau of Labor Statistics (BLS) reports that agricultural managers average $69,880 (mean annual) up to $113,140.
Sources 
"Companies With Ag Operations In The Fortune 500, Those Which Should Be." AgriMarketing.com. Henderson Communications LLC, 22 June 2015. Web. 23 Mar. 2017. 
Conway, Alyssa. "7 Most Popular Agribusiness Companies of 2015." WATTAgNet. WATT Global Media, 04 Jan. 2016. Web. 23 Mar. 2017. 
"Farmers, Ranchers, and Other Agricultural Managers." U.S. Bureau of Labor Statistics. U.S. Bureau of Labor Statistics, 30 Mar. 2016. Web. 23 Mar. 2017.
"Food and Agribusiness (International MBA): MBA." College of Agriculture and Applied Sciences, Applied Economics Department. Utah State University (USU), n.d. Web. 23 Mar. 2017.
Goedde, Lutz, Maya Horii, and Sunil Sanghvi. "Pursuing the Global Opportunity in Food and Agribusiness." McKinsey & Company. McKinsey & Company, July 2015. Web. 23 Mar. 2017.
"Graduate Study." Department of Agricultural, Food, and Resource Economics. Michigan State University, 11 Oct. 2016. Web. 23 Mar. 2017.
"MBA Specialization: Agribusiness." NMSU College of Business. New Mexico State University (NMSU), 2016. Web. 23 Mar. 2017. 
SimplyHired.com. SH, Inc., 2017. Web. 23 Mar. 2017.